IN CONVERSATION
Interview with artist Leslie de Chavez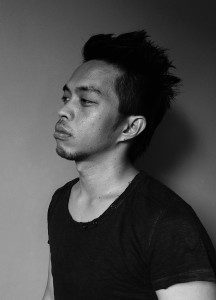 In his well-known, large-scale paintings, Leslie de Chavez uses a collection of reinvented historic symbols along with personal memories to address contemporary socio-political issues. Join us for a talk with de Chavez this Tuesday, 22 Sept 2015 3pm at the MCAD Multimedia room as he speaks about the figurative imagery in his paintings and the development into a conceptual framework in his sculptures and installation.

The artist will also discuss the significance of the texts found in When the Medium Killed the Message (2014) and Apog (2015). A discussion will immediately follow with Fatima Manalili, Head of Exhibitions. MCAD had the chance to catch up with Leslie for a few questions about his previous and current works just before his talk .
Could you tell us about how your work Apog came about?
The first version of the installation, which was called Finding Landmarks, was done in 2006 during my residency in Seoul. My studio at that time was in Goyang, which is thirty minutes away from the DMZ. For the whole year that I was staying there, each time I would go to Seoul or back to the studio, the bus would pass by a Philippine war memorial. When the Philippines sent reinforcements to South Korea in the 1950s to help in defeating the Japanese, we lost some of our soldiers. I thought it would be good to pay tribute, to memorialize the participation of Philippine soldiers who died in Korea. The format is similar to Apog, I took soil from outside and brought it into the gallery, then added the names of soldiers with baby powder. I wanted to incorporate the idea of scent and how it's related to the idea of commemorating the death of these soldiers. That was the first and last time I installed that work.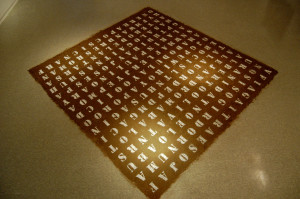 How did this work evolve into the version that is included in The Vexed Contemporary?
When I started planning my work for the MCAD exhibition, I thought it would make sense to place the work in context, which is why I decided to take the Mendiola and Hacienda Luisita incidents, both of which had a relation to disputes over land, agrarian reform. Nothing has happened to the issues that were raised in their time, this work is a way of remembering that history. I learned from my father that apog is [a substance] mixed with soil to neutralize the acidity, to help bring the soil back to its normal condition. I also learned that during the time of Typhoon Yolanda [Haiyan], apog was used to preserve the bodies of the deceased.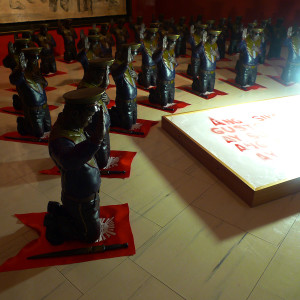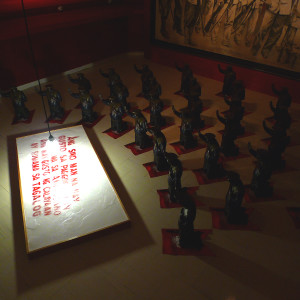 It was only after this work that I realized that I'm drawn to the idea of memorialization. I remembered doing a project about the Lapiang Malaya (Freedom Party) of Valentin de los Santos that was exhibited in the Lopez Museum last year. I was drawn to the idea of power struggles and the memorialization of their movement that caused the death of 32 devotees. Earlier this year, during my residency in Liverpool, I also did a work about the Mamapasano clash and the 44 fallen soldiers. For this work, I made laser-cut rifles engraved with the initials of the soldiers who died in the encounter.
What are you currently working on?
I'm preparing for an exhibition in Seoul, which will take place in March next year. Whenever I have an exhibition, it's a combination of different forms: paintings, installations, videos. I'm looking at producing ten new paintings, sculptures and installation works. It's been some time since I last exhibited in Seoul, my last solo exhibition in Arario Gallery was back in 2011. My inspiration is the work The Sleep of Reason Produces Monsters by Francisco de Goya and using the idea of reason as a person's guiding principles.
Your works often engage with themes of national identity and the socio-political in the Philippines and in previous interviews, you've talked about art and its social function, could you tell us more about this?
My work has to do with society, culture, politics, history. In my first solo show in 2003, my first topic was Philippine history and colonialism. To me, it's important, particularly in the Philippines, that you respond to your surroundings as an artist. When the price of gasoline goes up, when there's traffic or a political scandal or an economic crisis, you aren't exempted from these as an artist. When my work is shown outside the Philippines, I see myself as a messenger, as a storyteller.

Even for me, the art of painting is very Western. Painting wasn't part of the tradition of Philippine art, we were carvers, weavers, potters, metal workers, but we weren't painters. Since I use the Western mode of art making, identity is important to me in the context of the Philippines. For me, your identity as a Filipino artist, your narratives and topics need to be consistent.